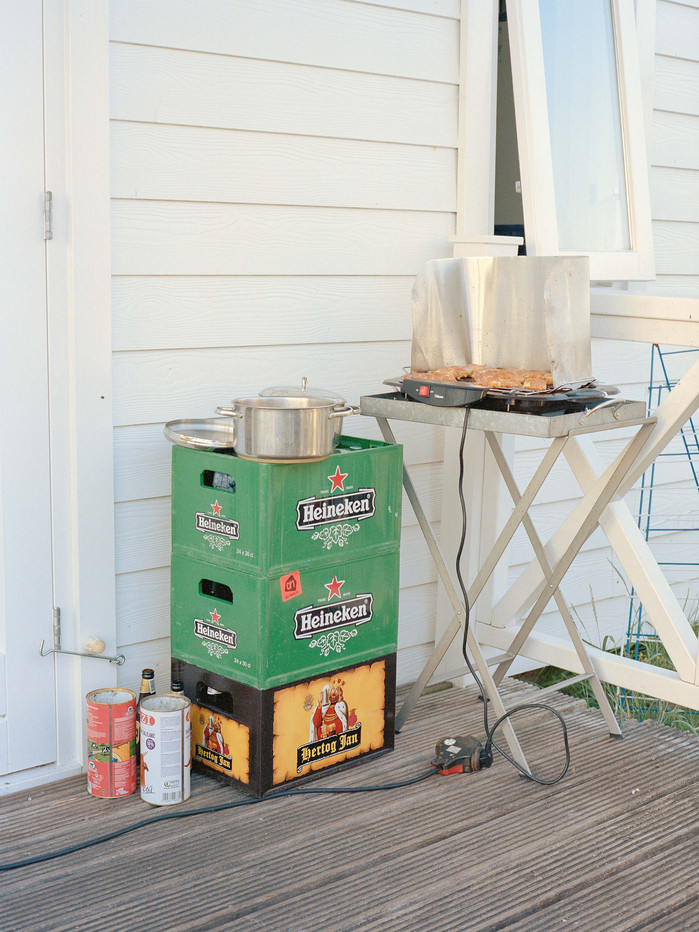 Dit project vindt plaats op het vakantiepark Cape Helius, een vakantiepark dat zich bevind in Hellevoetsluis, een stad aan de Nederlandse kust. Dit park heeft echter een Amerikaanse uitstraling en wordt voor een groot deel bewoond door Bulgaarse gastarbeiders die werken op de Maasvlakte. Ik merkte dat er veel vooroordelen waren over deze gastarbeiders en ook ikzelf had een aantal vooroordelen over hen, maar besloot toch op ze af te stappen. Ik nam mijn analoge camera mee, hierdoor kon ik op een langzame manier een band opbouwen met de mannen en zo leerde ik hen goed kennen. Met deze serie wil ik dan ook een kijkje geven in het leven van de gastarbeiders. Het laat de gezelligheid maar ook de frictie tussen de mannen zien en de absurditeit tegenover het normale leven. Mannen die de tering naar de nering proberen te zetten in de hoop op een beter leven, een droomwereld als in een kijkdoos.

Voor meer foto's kan je mijn boekje aanschaffen in de store.
This project takes place in the Cape Helius resort. In a small city on the Dutch coastline. The resort has an American appearance which makes it seem surreal in the dutch landscape. This resort is for the most part inhabited by Bulgarian immigrant workers. I noticed that there was a lot of judgement about these men and i even caught myself thinking of some. This made me decide to take my analog camera, because of the slow way of working I was able to build a lasting bond with these men and offer a glimpse into their lives. You see their harmonious daily life opposed to the friction and absurdity. Men who are dealing with the conditions in which they live, in the hope for a better future. A dream world as if you were looking into a shoe box diorama. For more pictures you can buy my booklet in store.